BNC GOES HYBRID
Continued from this LinkedIn post. 
BNC's Big Tent
We want to make everyone feel welcome, seen and heard when they attend our Venture Forums. Both the In Person people, and the Online attendees. A Hybrid meeting is the only solution. On the other hand, Hybrid is more challenging.
Our Venture Forum events are produced in order to nurture awareness and relationships among startup founders and investors. Our community is supportive, respectful and cordial, always welcoming like-minded fellows. Hybrid meetings lowers the barriers to attend.
With the challenges of a Hybrid meeting apparent, we plan to incorporate new interactive additions to our traditional programming. We believe we'll continue to improve how we manage hybrid meetings if we continue to innovate and learn from any mis-steps along the way.
Though we've learned a lot during the pandemic era and have been able to expand the Venture Forum's virtual offerings, we're excited to bring the entrepreneurship community together in-person in May.
"The energy of being in person and seeing how creative and smart these presentations are, it's infectious"

 -Loren Minkus, BNC

BALANCED MEETING EQUITY
The Ultimate Aim Is to Make Hybrid Meetings as Intuitive and Straightforward as Face-To-Face Meetings
The Hybrid Meetings Focus Is on Seamless Collaboration and On Content Sharing Both In-Room and Remote Attendees
Different Attendee and Meeting Channel Types Require Custom Solutions
Remain Respectful Towards All Meeting Attendees and Let Them Have an Equal Seat at The (Virtual) Table.
Introduce Everyone at The Start of The Meeting and Give Participants A Chance to Contribute Without Being Interrupted.
To Stimulate the More Introverted Attendees to Join the Discussion, We'll Ask Questions or Conduct a Quick Poll.
We Hope To Make Sure Remote Participants Feel Present; That They Are Seen Full Size In The Meeting Room (As To Give Them A Greater Presence In The Room Itself)
OUR BEST-SELVES CHECKLIST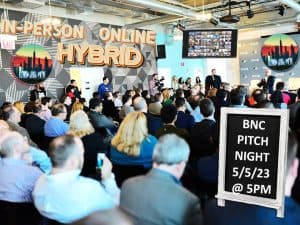 In our attempt to produce the very best Hybrid Venture Forum, we continue to embrace inclusiveness and transparency. We strive to …
Encourage a collaborative mindset among participants, both online and in person
Invite contributions from as many participants as possible; alternate between calling on on-site and remote participants
To keep everyone engaged, expect polls and other interactive content
Announce & remind on-site participants to look into the cameras and speak clearly into mics so that everyone can hear
Have multiple cameras and mics in the room for a better experience for online folks
This Hybrid approach requires concentration…Announce & Remind the audience to please help everyone by eliminating in-room banter, which makes remote participants feel left out
Start the sessions on time so remote attendees aren't left waiting
Establish and enforce etiquette for asking questions—raised hands, for example—ensuring on-site participants don't dominate questions
HYBRID BNC MEETING BEST PRACTICES
We will have an Online Moderator managing the remote user experience to ensure they virtual audience is engaged
A hybrid meeting Floor Manager will check that everyone attending in-person and virtually can clearly hear and see everyone else.
The Meeting Moderator will monitor & manage participation and contribution levels throughout the meeting, especially amongst those attending remotely.
We won't rush the agenda. Pausing at the end of each section will encourage online participants to raise questions and request course correction advice. If the discussion is being overshadowed by those in the room, we may stop and invite comments from the remote audience.
We're sharing this philosophy, our goals for equality and fairness. We'll treat everyone equally. We'll make sure we make eye contact with online attendees as well as those in the room. The Meeting Moderator will alternatively interact with virtual folks first rather than turning to the person in the room. We will validate questions, encourage participation and keep everyone engaged.
It's a careful balance, not putting remote people on the spot, but we'll try to ensure they don't just become viewers.
We will look for cues. We'll keep an eye out for body language and facial cues such as puzzled faces, raised eyebrows or even disengaged behavior.
The high points and the slower ones, are opportunities to bring folks into the conversation and clarify any concerns. Similarly, if someone unmutes themselves it's an indication that they might have something to say. We'll make sure they have the opportunity to do so.
Keep the playing field level. We'll use polls for everyone, whether in-person or remote, rather than ask for feedback so that everyone has the same opportunity to voice their opinions.
Make notes. Sounds obvious and it is. We're going to have everyone on the team capture all important actions and discussions. We'll share these in a timely manner via internal platforms and collaboration workspaces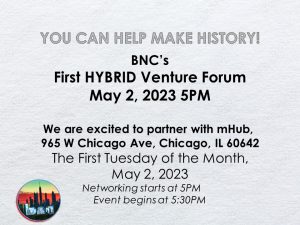 HYBRID MEETING ETIQUETTE
We hope to host a hybrid meeting where everyone feels comfortable and included
We need to let our audiences know we are earnestly working to provide a collaborative, quality, equitable experience to everyone who attends our events.
Be Patient with New Things. And With Technical Problems.
Things happen. The occasional hiccup is to be expected. We'll do our best to handle technical difficulties with finesse and a touch of humor.
Silence and stow your phones, unless you're logged into this meeting
Expect to be muted until ready to speak
Arrive on time
We will schedule in new "breaks", and networking to accommodate our hybrid groups
YOU ARE WELCOME TO JOIN US!
The BNC Venture Forum is populated by smart, congenial people who enjoy playing a role in the entrepreneurial process. We can't wait to meet you there!
For Tickets Scan or Click Below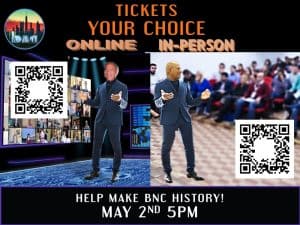 You can find information about upcoming events, review full length past pitch events, and dive deep on investment opportunities on a "Companies Seeking Investment" page.
We provide best-practices investor pitch deck resources startup founders can use
Thanks, Ron Shulkin
-The BNC Leadership team
Len Bland   Loren Minkus  https://conceptequity.com/
Ron Shulkin   https:// fractionalcmogroup.com /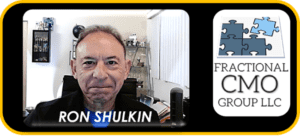 Ron Shulkin is the Founder of Fractional CMO Group LLC. He serves as the Fractional Chief Marketing Officer for multiple clients including BNC. Ron provides go-to-market strategy guidance and transformational roadmaps to companies of all sizes. He both architects and executes Account Based Marketing programs, product launch campaigns, and hires, trains & manages sales teams.
Ron shares marketing & pitch insights via blog posts and infographics (part of a Startup Founder Investor Pitch series).
Here are links to some latest entries…