DER BNC COMMUNITY
It's rewarding to be part of BNC, building relationships & encountering exciting breakthrough innovations.  We enjoy opportunities to champion startup founders, understanding their vision and curating introductions to investors with common interest. At the heart of our community, you'll find open minds and collaboration among innovation leaders. BNC attendees & leaders work together toward clommon goals & aligned interests.
---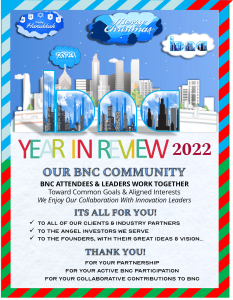 Please take a  moment to click & see
You'll see what your contributions built this year
---
Thank you for your part.
To all of our clients & industry partners; To the angel investors we serve; To the founders, with their great ideas & vision…THANK YOU!
WE'RE SENDING THANKS THIS HOLIDAY SEASON & WE WISH YOU A HAPPY AND HEALTHY 2023!
-The BNC Leadership team
Len Bland   Loren Minkus  https://conceptequity.com/
Ron Shulkin   https:// fractionalcmogroup.com /